A1, A2 PTX Pneumatic Top Filling Machines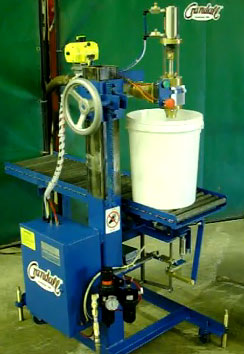 Range of Products:
The A1, A2, and A4 models are available for any non-foaming food, petroleum, or chemical product that will flow, settle out in the container, and not contain hard solids. Machines available in Brass and Steel (standard), 316 Stainless Steel, Sanitary Stainless Steel, Titanium, or PVC product contact parts to suit a wide range of products. For foaming products, see AF, F, and EF series fillers.
Range of Containers:
Any free-standing glass, metal, plastic, or box-in-bag container from 500 ml to 25 liters (pint to 6 US gallons). Filling nozzles are available for containers with openings as small as 13mm (1/2in.). For larger containers, see Crandall Fillers with Bench Scales and Drum Fillers.
Personnel Required:
One operator, unskilled.
Filling Speed:
Based on the gravity filling of water from a tank 3 meters (10 ft.) above filling platforms into open top containers.
Containers / Hour

Container

500 ml / 1-liter Pint / Quart

4 liter / 1 Gallon

8 liter / 2 Gallons

20 liter / 5 Gallons

Model:
A1
600
350
240
120#
A2/--S
side-by-side
1200
650
480
240#
A2/--I
inline model
900
525
360
180#
A4
2400
1300
950
-
#25-liter capacity models only
Accuracy:
The Crandall weighing system is specially designed for the filling operation. This ensures accurate filling under plant conditions. When properly installed and operated, the system will give sustained accuracy within +/-0.5% of the target weight.
Installation:
Type A fillers are shipped complete and assembled and can be quickly installed by your plant personnel. No special foundation is necessary. Motors on models with motorized conveyors are provided to the purchaser's electrical specifications. To install, place the machine in its operating position, connect the product supply line, and connect the electrics (if the machine has a motorized conveyor). If the machine is a pneumatically operated model, it has a filter/regulator/lubricator system to prepare plant air for machine use.
Operation:
A1: The operator places a container on the filling platform and initiates the fill. The nozzle closes automatically when the shut-off weight is reached.
A2: The operator places two empty containers on the filling platforms, discharges the filled containers, and initiates the fill. The nozzle closes when the shut-off weight is reached on each filling platform.
A4: The operator places four containers in the loading rack. When all nozzles are closed, the operator pushes the loading rack forward, putting the empty containers onto the filling platforms and discharging the filled containers. The operator initiates fill, and all nozzles open. When the shut-off weight is reached on each platform, its nozzle closes. While the containers fill, the operator loads the rack with four empty containers.
Maintenance:
Sturdy designs and construction guarantees many years of service. No special tools are necessary to make adjustments.
Supply of Product:
The machine may be supplied from any source, providing a constant flow rate to each nozzle. Pneumatically operated models may have supply line pressure from gravity to 3 kg/sq. cm (40 p.s.i.g.).
Safety:
The operation of the filling system is non-electric. Motors on models with motorized conveyors are Class 1, Group D, Explosion Proof-UL, and CSA-approved. There are no large moving parts to injure the operator. On pneumatically operated models, the operator has access to a quick shut-off button.
Change of Container:
To change the container, adjust the height of the filling nozzle using the rack and gear system and adjust weights. If the container opening size is different, change the filling nozzle.
Air Requirements:
Pneumatic Models: 0.8 liters at 4.2 kg/sq. cm (60 cu. in. at 80 p.s.i.g.) per container filled.
Electric Requirements:
Models with motorized discharge conveyors only - 5.5 amps maximum, depending on the voltage used.
Noise Control
On pneumatically operated models, cylinders exhaust through ports with mufflers. A level < 20 db.
OPTIONAL FEATURES
91cm (3 ft.) Gravity Discharge Conveyor (A1, illustrated) Recommended with the A1 is in sustained use - to ease discharge of filled containers.
Rollers on Filling Platforms: (A1, A2 - 25-liter capacity models) Recommended to ease the discharge of the filled containers if all containers are 4 liters (1 gallon) or larger.
Motorized Discharge Conveyor: (A2, standard on A4) Recommended when the machine is in line with other machineries, such as a closer. It will ease the discharge of the containers and move them into a single line for release from the filler.
Dribble Flow: (Pneumatic models only) The product flow is slowed at the end of the fill to increase fill accuracy.
Holding Tank: (A2, A4) Recommended if a product supply system is unavailable to provide a constant flow rate to each nozzle. This will eliminate line surges as nozzles open and close.
Sanitary Valving and Piping: (Pneumatically operated models only) For food applications, sanitary product contact parts are replaced with sanitary valving and piping with clamp connectors for rapid disassembly and cleaning.
Stainless Steel Conveyor, Stainless Steel Guards: For corrosion resistance and easy cleaning.
Fume Covers: Recommended when filling volatile products.
Casters: Recommended when the machine will be moved frequently.
SPECIAL ADAPTIONS ARE ALWAYS AVAILABLE FOR SPECIFIC USER REQUIREMENTS
---
A1, A2 PTX Pneumatic Top Filling Machines - Videos