Kinex Kinetic Bottle Capper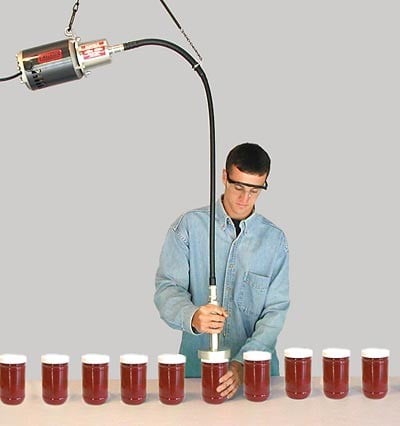 Powered by a fractional horsepower AC motor, Kinetic Capping Machines are strong and fast, delivering a torque range of 4-100 inch.lbs., and capable of closing up to 50 bottles per minute. Very comfortable to use, the Kinetic™ capping machine suspends weightlessly from the included suspension system. Featuring a direct plug in cord, no separate power supplies required. Comes completely equipped with everything you will need to get started including 5 torque adjusting weights, suspension system, anti-rotation mat, one chuck and your choice of four urethane or white rubber liners.
How it Works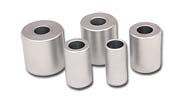 The Kinetic™ capping machine works on the principle of kinetic energy, where energy is increased as speed or weight is increased.
The amount of torque applied to the cap is determined by the speed at which the chuck is spinning in combination with the weight of the chuck and torque adjusting weight you are using. The Kinetic™ capping machine comes with 5 torque adjusting weights.

Since the speed of the machine is fixed and the weight of the chuck is determined by the size of the cap you are tightening, the way to adjust the torque is by changing which torque adjusting weight you use.
Adjusting the Torque on the Kinetic™ Capping Machine
To increase the amount of output torque add a larger weight onto the sleeve of the chuck.
To decrease the amount of torque add a smaller weight onto the sleeve of the chuck. For some applications, you may find that using no torque adjusting weight will provide the torque output that is appropriate.
Operating Features
Tightens caps from 10 mm - 120 mm.
Torque range from 4-100 inch.lbs
Direct plug in cord
Easy to setup, easy to use
Quick change chuck
Available in 110/120V, 50 or 60 Hz AND 220-240 volt, 50/60 Hz
Totally Enclosed Models available.
Ergonomic Features
Comfortable to use
Quiet
Powered by an AC electric motor, creates no emission
All Kinetic™ Capping Machines Include
Suspension System - suspends capper weightlessly.
One chuck - 16 sizes to choose from, handle caps from 10 mm - 130 mm.
Your choice of four urethane or white rubber liners (chuck inserts),
One anti-rotation mat
5 torque adjusting weights