Kinex Pneumatic Bottle Cappers - PS Series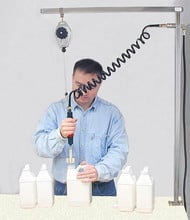 PS™ Pneumatic Bottle Cappers tighten screw and lug caps from 10 mm to 130 mm. They are easy to use and a good choice when torque accuracy and repeatablilty are crucial. The torque output is easily adjusted by turning an external torque dial with your fingers. PS™ Capping Machines run on compressed air at 90 psi; they are very quiet and comfortable to use.
PS™ capping machines are lightweight and include ergonomic features such as push to start and automatic shut off.
How it works
PS™ capping machines are very easy to use. The operator lowers the chuck onto the cap to be tightened. With a gentle push down (push to start-there are no levers to depress) the machine starts and tightens the cap in a fraction of a second. When the cap reaches the pre set torque, the machine automatically shuts off (auto-shut-off), signaling the operator to go to the next cap.
Works with many different sized caps
Need to tighten small caps? The PS-100 can handle your small cap requirements, applying as little as 2 inch. lbs. of torque.
Need to tighten large caps? Featuring an extremely powerful motor and special gearing, the PS-300 Power Cap™ is designed to handle caps up to 130 mm in diameter with ease and precision.
Operating Features
Tightens caps from 10mm to 130mm
External Torque Adjustment Dial
Precise repeatable torque ranging from 2-110 inch.lbs
Can be used as a De-Capper
Easy to setup, easy to use
Quick change chuck
Ergonomic Features
Push to Start
Automatic Shutoff
Quiet operation
Soft ergonomic grip
Compact Size
Kinex Pneumatic Bottle Cappers - PS Series - Video