Kinex Semi-Automatic Bench-Top Capping Machines - SA Series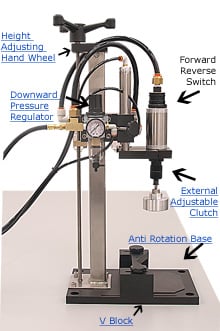 SA™ Semi-Automatic Bench-Top Capping Machines were designed to eliminate the strain and fatigue associated with hand capping. Extremely ergonomic and comfortable, SA Bench-Top Capping Machines are very easy to use.
How It works
Simply place the bottle to be capped into the V-Block on the base of the machine and depress the foot pedal. This activates the machine to bring the capping motor down onto the cap, tighten the cap to the pre-set torque, then lift the capping motor back to its initial position ready for the next container.
SA™ Capping Machines feature an adjustable automatic-shut-off clutch, which offers excellent torque accuracy and repeatability. The clutch is easily adjusted by rotating an external dial with your fingers; the torque range is from 2 inch.lbs. - 125 inch.lbs. When the cap reaches the pre-set torque, the clutch signals the motor to shut off, and the machine lifts up off of the cap.
SA™ Semi-Automatic Cappers are air operated. They include an integrated lubricator, filter and regulator to ensure the machine receives clean, well lubricated air at the correct air pressure.
Works with many different sized caps
Need to tighten small caps? The SA™ 1000 can handle your small cap requirements, applying as little as 2 inch. lbs. of torque.
Need to tighten large caps? Featuring an extremely powerful motor and special gearing, the SA-2000 Series Capping Machine is designed to handle caps up to 130 mm in diameter with ease and precision.
Operating Features
Tightens caps from 10mm to 130mm.
Torque range: 2 - 125 inch.lbs.
Capping speed - 30 caps per minute.
External torque adjustment dial.
Integrated lubricator/filter/regulator
Reversible - can be used as a de-capper
Easy to set up, easy to use.
No Tools Required! All adjustments are made by turning knobs and dials.
Quick change chuck
Ergonomic Features
Quiet operation - 78dBA
Anti-rotation base makes holding the container strain free
Contact us for details Print this page
---
Kinex Semi-Automatic Bench-Top Capping Machines - SA Series - Photo