Kinex Semi-Automatic Bench-Top Capping Machines - SA Series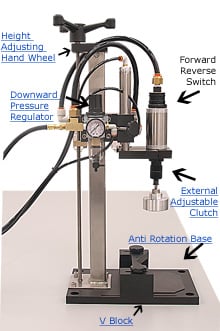 Supercharge Your Production Line
Say goodbye to the strain and fatigue of hand capping. Welcome ease and speed with the SA™ Semi-Automatic Bench-Top Capping Machines from Kinex. Built for comfort, they transform your production line, making capping a breeze.
Discover the Kinex Advantage - How It Works
Place the bottle in the V-Block, depress the foot pedal, and watch the magic happen. The machine descends onto the cap, tightens it to a pre-set torque, and is instantly ready for the next bottle. Your path to peak efficiency starts here.
Enjoy precise torque control with the SA™ Capping Machines' adjustable automatic-shut-off clutch. Set your desired torque with a finger's ease. The moment the cap reaches pre-set torque, the machine disengages and readies itself for the next round.
What's more? The SA™ Semi-Automatic Cappers are air operated. They come integrated with a lubricator, filter, and regulator, ensuring clean, lubricated air at the correct pressure every time.

Versatility - Works with Many Different Sized Caps
Small caps? No problem. The SA™ 1000 is perfect for applying as little as 2 in. lbs. of torque.
Big caps? We've got you covered. The powerful SA-2000 Series Capping Machine handles caps up to 130 mm in diameter with ease and precision.
State-of-the-Art Operating Features
Tightens caps from 10mm to 130mm.
Torque range: 2 - 125 in.lbs.
Capping speed - 30 caps per minute.
External torque adjustment dial.
Integrated lubricator/filter/regulator
Reversible - can be used as a de-capper
Set up in minutes, simple to use.
No Tools Required! All adjustments are made by turning knobs and dials.
Quick change chuck
Unmatched Ergonomic Features
Quiet operation - 78dBA
Anti-rotation base for a strain-free experience
Ready to redefine efficiency? Contact us now to transform your capping process.
---
Get a Closer Look - Kinex Semi-Automatic Bench-Top Capping Machines - SA Series