DA Electronic Drum Filler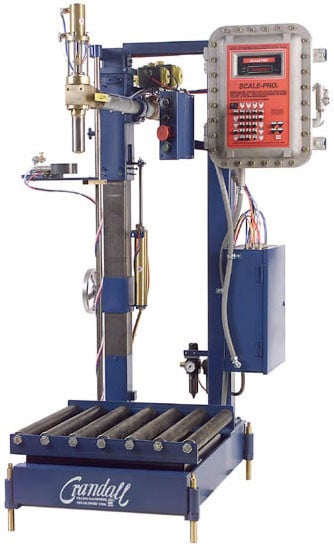 Electronic Drum Fillers DA Model Top Fill
The DA Model Top Fill Electronic Drum Filling Machine by Crandall is the ultimate net-weight filler for all your non-foaming food, petroleum, or chemical products. This state-of-the-art machine is designed to fill any product that flows and settles out in the container without any hard solids. Say goodbye to messy and inaccurate filling methods and upgrade to the precision and efficiency of the DA Model.
For foaming products, use our top-of-the-line Crandall FD Electronic Drum Filler.
Range of Products:
To suit a wide range of products, our machine's contact parts are available in:
Brass & Steel (standard)
316 Stainless Steel
304 Sanitary Stainless Steel
PVC
Range of Containers:
Any free-standing metal, glass, plastic, or bag in drum container from 15 gallons (50 litres) to 55 gallons (220 litres).
Filling lances are available for containers with openings as small as 1" (25mm).
Filling Speed:
Speeds are based on the gravity filling of water into open-top containers from a 10-foot (3-meter) head tank.
CONTAINERS PER HOUR*

Container Size
Per Hour
16 Gallons / 60 litres
120
30 Gallons / 120 litres
90
55 Gallons / 220 litres
60
*Actual rate depends on container opening size, product viscosity, and supply system.
Accuracy:
The 1000 lb. (500kg.) scale is a proven heavy-duty design specially adapted for the filling operation. The accuracy of the filler is +/- 0.1 of a pound when the machine is properly installed and operated.
Maintenance:
Sturdy design and construction guarantee many years of service. No special tools are necessary to make adjustments.
Safety:
The machine is equipped with a quick shut-off that interrupts the fill. It also features a tail-safe to shut off the product flow if air pressure is lost. See other available options.
Personnel Required:
One operator, no special skills necessary.
Supply Of Product:
The machine may be supplied from any source providing a non-surging flow. Supply line pressure may be from gravity to 40 p.s.i.g.
Approximate Air Requirements:
3 cu.ft. / min. @ 80 p.s.i. or 12 s.c.f m. @ 80 p.s.i. (80 ltr / min @ 5.6 kg/sq.cm.) per container filled.
Electric Requirements:
110/120 volts 50/60 hz., single phase, grounded, clean. We suggest using a surge protector. The scale controller classification is NEMA 4 X, liquid tight.
Noise Control:
Cylinders exhaust through ports with mufflers. A level less than 20dh at 3 ft. (1 meter).
DA Electronic Drum Filler Installation:
Effortlessly set up your machines with our quick installation process.
Our machines arrive fully assembled and ready for installation by your plant personnel. No special foundation is necessary.
Simply place the machine in its operating location, leveling it with jacks as needed.
Connect the electric cord to any clean, grounded 110 VAC 50/60 Hz receptacle, and attach the plant air to the filter, regulator, and lubricator.
Finally, connect the product supply hose to the 2" NPT thread at the feed pipe.
DA Electronic Drum Filler Operation:
The operator enters set-point 1 (dribble flow) weight and set-point 2 (target weight) shy of the target allowing the product in motion to be weighed.
The operator then places the container on the filling platform under the fill nozzle and presses the start button. At this time, the scale automatically takes the weight of the container.
The drip pan retracts, and the nozzle descends approx 2" into the opening of the container.
When the container reaches the set-point 1 weight, the product flow decreases to increase accuracy.
When the container reaches set-point 2 shut-off weight, the nozzle closes and rises.
When the fill head reaches the top position, the drip pan will extend to catch any product or residue from the lance.
The operator pushes the container off the roller platform conveyor and places another container for filling.
Change Of Containers:
To change the container, enter the new cut-off weight on the scale controller. Following this, adjust the height of the filling head using the rack and gear system. If the container opening is a different size, the filling nozzle can be quickly changed. This process allows for easy modification to accommodate different containers.
Change Of Products:
To change products, the filling head can be conveniently drained and rinsed with solvent. For a thorough cleanse, in-plant personnel can easily disassemble the filling head - no technician is required. This process enables an efficient transition between different products.
Note:
On machines with PVC contact parts, product line pressure is limited to 15 p.s.i.g. greater pressure can cause damage to the filler and possible injury to the operator.
Optional Features
Infeed Discharge Conveyor:
4 ft. to 10ft gravity conveyor suggested for sustained use to ease loading and discharging of filled containers.
Contact Parts:
316 Stainless Steel wetted parts with glass/Teflon gaskets and Titanium wetted parts with glass/Teflon gaskets are available for the chemical industries. PVC with Tygon gaskets for high corrosives and UHMD is also available—304 Sanitary Stainless Steel for the food industry when required.
Fume Cover:
A PVC or UHMW fume cover is provided with a 3/4" X 10' long flex hose for connection to your plant vacuum system. This removes fumes from around the container while filling directly at the opening. Not applicable for open-top drums.
Operator Splash Guard:
To protect the operator from direct spray in the event of an accidental overfill, we suggest that all operators should wear proper eye protection at all times while operating any filling machine.
Explosion-Proof Electrics:
For use in hazardous environments. NEC classifications:
Class I - Div. 1 - Groups C & D
Class II - Div. 1 - Groups E, F & G
Class III
Operating space:
3 feet of clearance behind the drum filler is required
Approximate Floor Space:
45 in. x 29 in.
Height:
DA Overall-80 in. Conveyor from floors 10.5" adjustable up 4.5".
Approximate Shipping Weight:
1,200 lbs.
Frame Work:
304 Stainless Steel
Coatings:
Two parts (Tile Clad tm.) Epoxy Spray coated steel or SteelIt Om. Stainless Steel spray coated Steel
Printers:
Several printers are available for labels, cards, and tape. Various printers offer features including net, gross, and tare values, batch time, and accumulation information.
Crandall offers a full range of liquid fillers and closing machinery for pails and cans. Our pail filler and drum filling machinery provides accurate, low maintenance, no-drip liquid filling to viscous products into cans, pails, drums, and totes.