FAPA4 and PA4 Auto Loader Can and Pail Fillers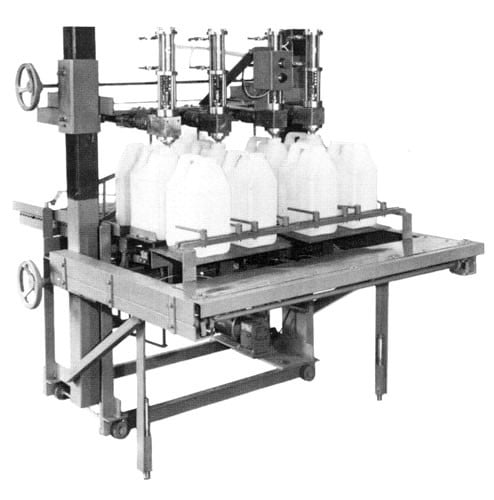 Model PA410PTX Shown
Models FAPA-4 and PA-4 AUTOMATED A-4 Fillers
Range of Products:
Any non-foaming product which will flow, settle out in the container, and does not contain hard solid particles. Machines are available in brass and steel (standard), Nickel Plated Brass and 300 series Stainless Steel, PVC, and 316 Stainless Steel contact parts to suit your products.
Range of Containers:
Any metal, glass, plastic, or composite container which is rigid and has a rectangular shape or round shape with a center opening. Container sizes can be filled from quart to 2-1/2 gallons (1 to 10 liters). The Model PA-4 requires the minimum container base measurement to be 3.375 inches (86 mm), and the Model FAPA-4 requires a minimum base measurement of 4 inches (102 mm). Container openings may be as small as 7/8 inches (22 mm).
Crandall's liquid and pail fillers machinery provides accurate, low maintenance, no-drip liquid filling to viscous products into cans, pails, drums, and totes.
Filling Speed:
Filling speed depends on product viscosity, product line pressure, and container opening size. Based on the gravity filling of water from a tank elevated 10 ft (3 m) above floor level into open-top containers, the approximate filling speeds are as follows:
Container Size:

1 quart
(1 litre)

1 gallon
(4 litre)

2 gallons
(8 litre)

2.5 gallons
(10 litre)

Containers / Hour

2600

1350

1000

850
Accuracy:
The CRANDALL weight-tripping device is a proven heavy-duty design with a sustained accuracy of within ± 0.5% of the set gross weight when properly installed and operated. When properly maintained, it has a usable lifetime of over 20 years. The machine is equipped with 4 tripping devices so that each container is individually weighed and nozzles close independently.
Installation:
The models PA-4 and FAPA-4 are shipped complete and assembled. Your plant personnel may install them. The machine must be attached to a 3/8 in. (minimum) plant air supply line, and product line connections must be made. The fractional horsepower motor which operates the discharge conveyor is provided to customer electrics and must be attached to a switched electric supply.
Operation:
Model PA-4:
The operator places 4 containers in the loading rack and presses the operating button. The rack moves forward, placing the empty containers on the filling platforms and pushing the filled containers onto the discharge conveyor. The nozzles open and begin filling. While the empty containers on the platforms are being filled, the rack returns, and the operator loads the next 4 empty containers into the rack. When each container reaches its shut-off weight, its nozzle closes. When all nozzles are closed, the operator presses the operating button, and the next 4 empty containers are moved onto the filling platforms. All filled containers are moved down the discharge container, and a guide moves them into a single line.
Model FAPA-4:
The operator places 4 empty containers into the loading rack. The machine senses when the 4 containers on the filling platforms are full and 4 empty containers are in the rack; at that time, it automatically loads the empty containers. The nozzles open to begin filling, and the rack returns. The operator then loads the next 4 empty containers. When each container reaches its shut-off weight, its nozzle closes. The machine automatically recycles when all nozzles have closed, and 4 empty containers are in the rack. All filled containers are moved down the discharge conveyor, and a guide moves them into a single line.
Maintenance:
The machines are a sturdy welded steel construction that is durable for many years of service. These models are also equipped with a special step sequential pneumatic system, providing visual indicators and manual overrides to simplify maintenance.
Supply of Product:
The recommended method of supplying the machine is from a gravity tank with separate outlets for each filling station. An intermediate holding tank is recommended if a pump is used to supply the machine (see Options). If a holding tank is not feasible, we recommend that the machine be supplied with the product via a supply line with minimum restrictions of no less than 3 in. (7.5 cm) diameter. The pump should be capable of supplying the product at no less than 75 US gallons (300 liters) per minute, and the system be equipped with a pressure-controlled bypass system set at 20 p.s.i.g. The function of this system is to eliminate surges on open nozzles as other nozzles close.
Change of Product:
The product supply system may be flushed with solvent or hot water to change the product. The filling heads may be disassembled for a complete cleaning by removing 10 bolts.
Change of Container.
To change the container, reset the filling weights, reset the container guides, and reset the nozzle positions. For nozzle position adjustment, rack and gear adjustment is included. The loader guides must be reset. If the container openings are considerably different, nozzles may be quickly changed.
Requirements:
Air
Approximately 10 cu. ft./min. at 80 p.s.i.g. (150 litres/min. at 5.6 kg/sq. cm).
Electric
The 1/3 or 1/4 H.P. motor draws on a maximum of 5.6 amps. Requirements will vary with different electrics. Motors are available in most 50 and 60-hertz electrics at no extra charge.
Space
Floor Space: 60 in. x 79 in. (150 cm x 200 cm)
Operating Space: 24 in. (60 cm) on each side.
Personnel
One operator, no special skills necessary.
Safety:
The motor used for conveyor operation is Class 1, Group D, Explosion Proof, with UL and CSA approval. The operation of the filler is pneumatic. The operator has access to a quick shut-off button to interrupt fill.
Noise Control:
All cylinders exhaust through ports with mufflers.
Shipping Weight:
Approximately 2900 lbs. (1315 kg)
OPTIONAL FEATURES:
Holding Tank:
A holding tank of approximately 40 US gallons (160 liters) is available to be mounted on the machine frame above the discharge conveyor. The tank is provided with attachments to connect each filling station; The tank has a level control float valve to maintain tank level and a single inlet. The holding tank is recommended when a pump must supply product to the machine. Maximum pressure on infeed line is 30 p.s.i.g.
Stainless Steel Weight Tripping Devices, Stainless Steel Discharge Conveyor and Filling Platforms, Epoxy Painted Frame:
These are available for food applications where washdown is frequent and applications in corrosive atmospheres.
Casters:
For Portability.
Special Modifications:
These are available to meet specific customer requirements.
CRANDALL PACKAGING MEANS PROFITABILITY THROUGH:
Accuracy
Ease of Operation
Low Maintenance Costs
Long Life