FTC Friction Top Closing Machines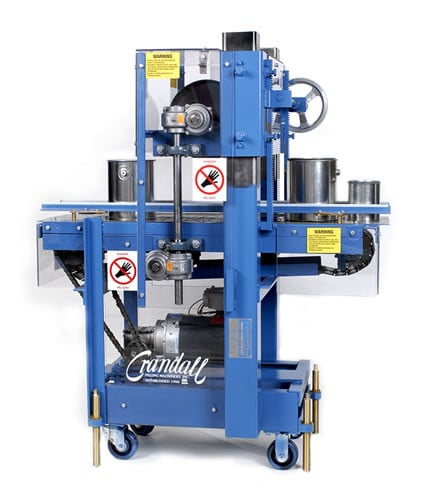 Model FTC Shown
Range of Containers:
All friction-top metal cans and many plastic containers to a maximum diameter of 7.5 inches (19cm) may be closed on the FTC machine.
Change of Containers:
To change the height of the closing wheel, adjust the rack and gear system using the adjustment wheel.
Speed:
The conveyor travels at approximately 30 ft./min. (9m/min.) and will accept randomly placed containers.
Safety:
Polycarbonate guards covering moving components. The motor is Class 1, Group D, Explosion proof. UL and CSA approved.
Installation:
The machine is shipped assembled and may be installed quickly and easily by your plant personnel. Conveyor height is manufactured to your plant's specifications. A fractional horsepower motor is provided in customer electrical specifications to operate the closer.
Operation:
The lid is placed on the container before entering the machine, where it is conveyed below the synchronized powered roller and sealed.
Maintenance:
Most adjustments and repairs are not complicated and may be made by your plant personnel. A sturdy welded steel construction will provide many years of profitable service.
Personnel Required:
No operator is needed at the machine while it is in operation. The operator at the filler typically places the lid before discharging the container to the FTC.
Electrical Requirements:
5.5 amps., maximum depending on motor electrics.
Air Requirements:
None
Floor Space Required:
44 in. X 34 in. ( 112cm. X 87cm. )
Approximate Shipping Dimensions:
48in. X 40in. X 64in. ( 125cm. X 100cm. X 162cm.)
OPTIONAL FEATURES
Casters: 2 swivel two rigid
Frame: 304 Stainless Steel, Epoxy coated
Conveyor: 304 Stainless Steel table top chain
Special: Automatic lid dropper for pints, quarts, & gallons