PPC Friction Top Closing Machine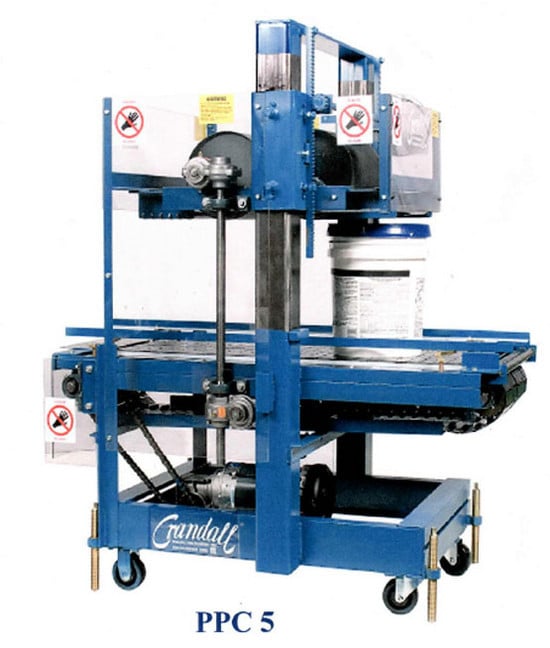 Range of Containers:
The PPC 5 is designed to close standard and heavy-duty plastic pails with press-on lids with lid diameters up to 17" ( 35 cm.). The PPC 5 will also close various friction top metal cans.
Speed:
The table-top conveyor moves at a rate of 30 ft. per min. ( 9.2m./min.) allowing a standard 5 US gallon (20 liter) at a rate of 20 per minute. The machine will accept randomly spaced containers and close either empty or full containers.
Installation:
The machine is shipped assembled and can be installed easily by your plant personnel. Machines are built to customer height specifications to meet other conveyors in the line.
The motor must be connected to an on/off switch that is to be supplied by the customer. Leveling jacks with a 6" adjustment are provided.
Operation:
The containers enter the machine with the lids placed on top. The lids are pressed on tight as the container passes below the closing wheels. The synchronized moving table top chain and wheels allow continuous movement of containers through the closer.
Maintenance:
Sturdy, welded steel construction provides a need for minimum maintenance and assures long life.
Change of Containers:
A rack and pinion system raises and lowers the closing wheels to adjust for container heights. Locking bolts are supplied so closing wheels do not drift while in operation.
Safety:
The closing assembly is guarded with clear Polycarbonate, as is the drive chain on the motor. Always practice safe operation by shutting off the machine whenever performing maintenance or clearing any debris from the machine.
Electrical Requirements:
The 1 HP. motor draws a maximum of 15 amps. Depending on electrics.
Optional Features:
304 Stainless Steel conveyor, 304 Stainless Steel frame, Epoxy paint, and rigid/swivel casters.
Floor Space:
59 in. x 35 in. (150 em. x 90 cm.)
Shipping Weight:
Approximately 1700 lbs. (775 kg.)
Shipping Measurements:
65 in. x 42 in. x 65 in (167 em. x 108 em. x 167 em.)
PPC Friction Top Closing Machine Video