ET1/4X Top Fill Drum/Tote Filler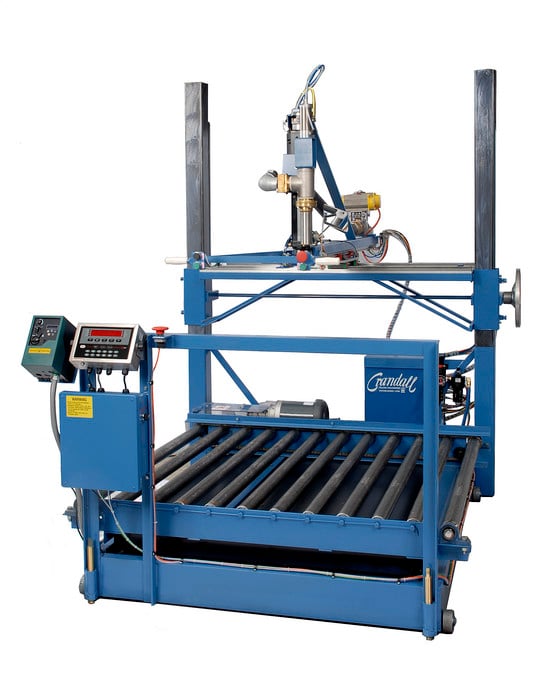 Range of Products:
Any non foaming food, petroleum, or chemical product that will flow and settle out in the container and does not contain hard solids. Machines are available with Brass & Steel, 304 Stainless Steel, 304 Sanitary Stainless Steel and PVC contact parts. (For foaming products, see Crandall EF/l4X)
Range of Containers:
Any free standing metal, glass, plastic or bag in drum container from 15 gallon (50 liters) to 55 gallon (220 liter) and tote size containers. Filling lances are available for containers with openings as small as 1" (25mm).
Filling Speed:
Based on the gravity filling of water from holding tank into open top containers. (Faster speeds may be achieved by pumping product) *Rates may vary under different conditions then when tested.
| | |
| --- | --- |
| Container Size | Per Hour |
| 16 gallon / 60 liter | 120 |
| 30 gallon / 120 liter | 90 |
| 55 gallon / 220 liter | 60 |
Accuracy:
The 5000 lb. scale is a proven heavy duty design, specially adapted for the filling operation. Accuracy is within +l- .!% when the machine is properly installed and operated.
Installation:
The ET1/4X filler may be installed quickly by your plant personnel. The scale controller can be plugged directly into a 110 volt outlet. One minimum 3/8" airline from your plant air is required to run the pneumatic system.
Operation:
The operator places all bung openings toward the center of the pallet with the drum caps removed, and rolls pallet onto the filling platform. The operator presses the break release button allowing movement of the filling head and aligns the filling lance to the drum opening (the machine is also equipped with a mirror to aid in alignment). He then presses the start buttons. The machine will auto tare the scale and the filling lance will descend a few inches inside the drum. The fill lance will open and fill at a rapid rate until the scale reaches set-point #1 (dribble flow). The fill rate will now be in the dribble mode (slow) until the scale reaches set-point #2 (shut off), at which the fill lance will shut and then rise out of the drum. Once the fill head has reached the top of its stroke the drip pan will extended to beneath the fill lance to capture any drips from the outside of the fill lance. The operator will move to the next drum and repeat the process until all drums are full.
Product Supply:
The machine may be supplied from any source which will provide a non-surging flow. Supply line pressure may be from gravity to 40 PSI Maximum. The standard connection is 2" NPT female.
Maintenance:
Extra heavy duty design and construction guarantees many years of service. No special tools are necessary to make adjustments.
Safety:
The machine is equipped with a quick shut-off that interrupts the fill. It also has a fail-safe to shut off the flow of product if air pressure is lost. Other safety options are also available.
Change of Product:
To change product, the filling system may be drained and flushed down with solvent. For complete cleaning the filling head may be disassembled by operator.
Personnel Required:
One operator, unskilled. The operator has time to close and seal the bungs while the next set of containers fill.
Air Requirements:
Approximately 3 cu.ft./min @ 80 PSI (80 ltr. /min. @5.6 kg/sq.cm) per container filled.
Electrical Requirements:
110/120 Volts, 50/60 Hz. single phase, grounded clean electrical source. We suggest using a surge protector. The scale controller classification is NEMA 4X, liquid tight stainless steel.
Change of Container Height:
The machine is equipped with a hand wheel rack and pinion system to raise and lower the fill head to the appropriate height for different size containers to be filled.
Capacity:
Heavy duty design 5000 lb 48"x48" flexure base style scale.
Optional Features:
In feed/discharge conveyor: 5' Min to 10' gravity or powered conveyor sections. Powered rollers on fill platform.
Framework/Coatings: 304 SS frame. Epoxy painted steel or "Steel It" SS paint coating. Enamel paint standard.
Safety Items Available: Fume cover, Operator splash guard, Explosion Proof electrics for filling flammable liquids.
Full Stoke filling head: Allows full movement of head to corners of fill scale. (Needed for 16 gallon kegs on pallet machine)
Approximate Floor space:
58" wide x 80" deep x 85" tall - 14" conveyor roller height. 3' clearance required behind filler for hose/hose head movement.
Approximate Shipping Specs:
90"L x62"W x 80"H, 2900lbs.